The new generation of applications and modern platform
Microsoft Dynamics 365 is a new generation of enterprise applications in the cloud environment. The critical feature is linking the best of ERP and CRM to one solution.
The benefits of a common platform D365
Microsoft Dynamics 365 is designed to be easily and independently deployed. This allows you to expand or downsize your solution and implement only the processes you use. At the same time, the platform is ready for convenient connection of third-party applications and partner solutions that cover the specific needs of your industry. You only pay for the features you use.
The Microsoft Dynamics 365 platform offers a suite of applications and developed partner solutions that address the specific needs of different business sectors and diverse corporate
Do not step on the spot and use your skills to the fullest!
Reach More Customers – Manage More Opportunities and Increase Revenue.
Upgrade Faster – Build the solution for your business on a trusted leader, using the latest technology.
Expand your business – Gain access to new types of services and get the ability to open up new opportunities. Modern applications integrated with Microsoft 365 and Power BI allow you to make decisions faster and based on relevant information. Microsoft Azure is continuously expanding its offer of new Cloud services.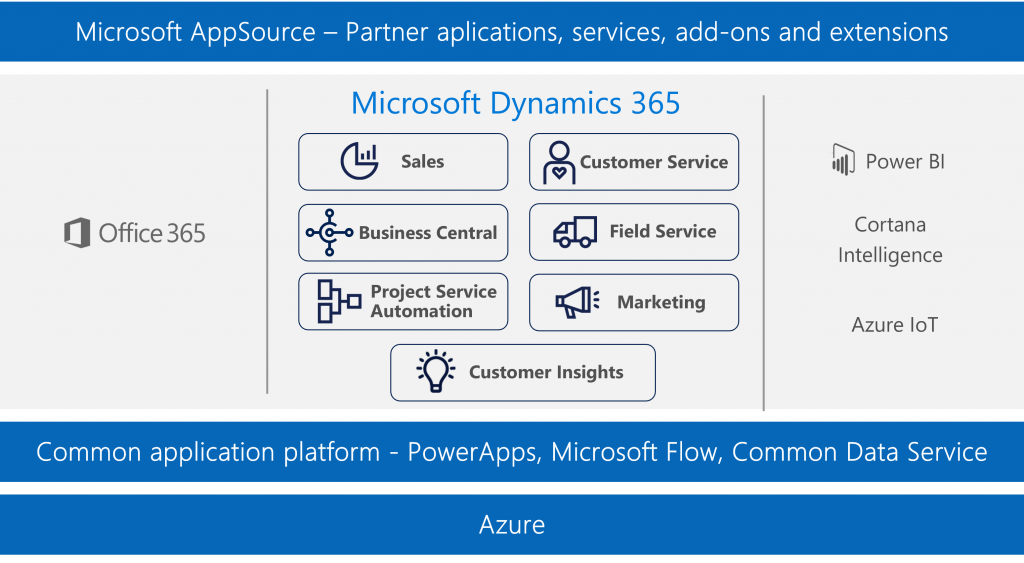 ---
Group of Microsoft Dynamics 365 applications

The ERP solution helps companies combine financial, sales, service and logistics processes to streamline business processes, improve customer communications and make faster decisions. It combines multiple systems into one application. Automated workflows and collaboration with Microsoft 365 enhance user efficiency. Microsoft Outlook connectivity and integration with other Dynamics 365 applications are a big advantage. Preparing data for Power BI is easy. You will have an up-to-date overview, and you will see the image of what's happening in your business on the system. More
D365 for Sales

You probably know the solution as Microsoft Dynamics CRM. It is designed for customer relationship management. It supports the automation of business and marketing processes. It enables you to record and manage business opportunities – it records business communication and makes information available in the company. The application manages leads, opportunities, marketing campaigns and lists and records marketing activities.
D365 for Customer Service

The solution is designed to build and maintain customer relationships to ensure optimal customer satisfaction. It unifies the way we work to record and troubleshoot customer problems. It defines how issues are kept, monitors all case-related interaction. It enables the creation and sharing of a knowledge base and performance and productivity assessment.
D365 for Field Service

The solution is ready for field service technicians. It covers service and maintenance requirements from customer asset records, service locations, preventive maintenance plans, route plans, job order records to billing.
D365 for Project Service Automation (PSA)
A solution that helps sales and implementation teams communicate with customers and deliver projects on time and according to budget. The solution includes bidding and ordering, helping to plan and allocate resources to projects. It provides teamwork, captures data on dates, costs and records billing.
D365 for Marketing

A solution that will help you move business opportunities. The app connects sales and marketing, enables process automation and smarter decisions to maximize marketing return on investment.
---
More available Dynamics 365 applications:
A comprehensive system that allows you to unify global financial services and operations helps make quick and relevant decisions. Dynamics 365 for Finance and Operations helps businesses adapt quickly to changing market demands and accelerate business growth. More
---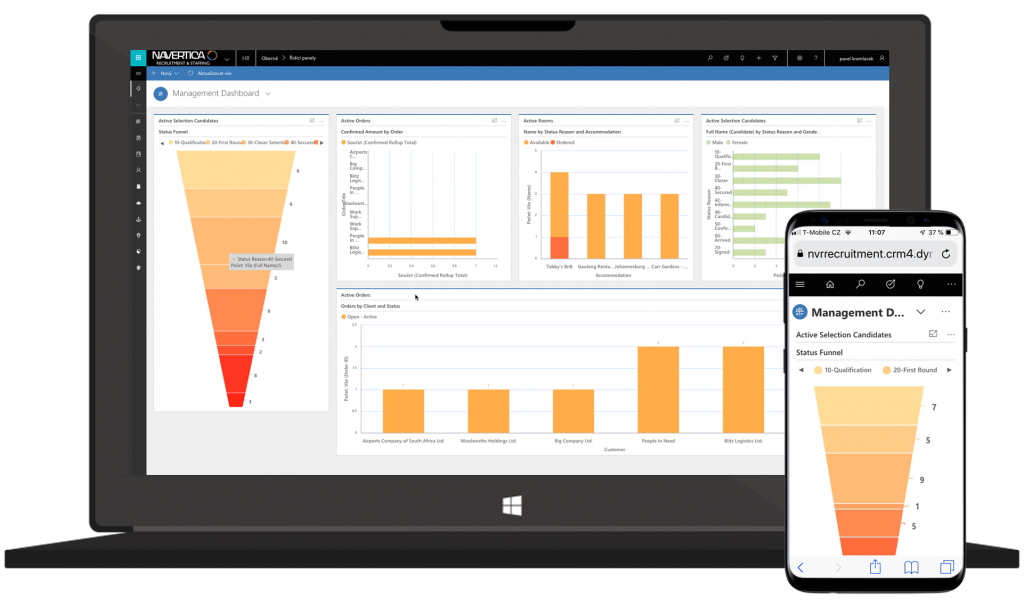 Navertica Solutions on Dynamics 365
Navertica Recruitment and Staffing

On the D365 platform, we have developed a unique HR solution that fully supports the recruitment and employment process. It enables HR professionals to quickly and efficiently process recruitment process activities up to the placement of a candidate with a client.
---
NAVERTICA project on Dynamics 365 app platform
We have delivered solutions in CentralWork s.r.o., KOPOS KOLÍN a.s., Zoeller Systems, s.r.o. and we are implementing D365 Business Central at Manuchar South Africa (Pty) Ltd.
---
Are you looking for a specific solution to support your business?
Microsoft makes available apps, services and extensions to AppSource
Shorten search testing and application deployment to the minimum required. Extensions and applications for specific tasks are available on AppSource.
You need to start and don't want to wait for the delivery!
You can purchase applications, partner solutions, and extensions differently at different stages of your business
You can choose between operating costs for services or invest in SW purchase. Applications from the Dynamics 365 family or their extensions can be run online (in the cloud) or on-premise, and often in a hybrid mode that combines available options.
---
| | |
| --- | --- |
| | Are you interested in this product? We will be happy to answer your questions, feel free to contact us using the form below. |