Dynamics 365 for Finance and Operations (formerly AX) is an enterprise resource planning (ERP) solution that is simple to learn and use so you can deliver value faster, take advantage of business opportunities, and drive user involvement and innovation across the organization.
Capabilities
How Microsoft Dynamics 365 for Finance and Operations can help you run:
IT
Finance
Commerce
Operations
Industry solutions:
Retail
Manufacturing
Services
Public sector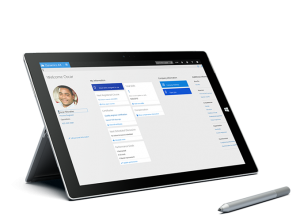 ---
IT
Increase the speed of doing business
Dynamics 365 for Finance and Operations is a business solution that helps enterprises increase the speed of doing business. Dynamics 365 for Finance and Operations enables people to make smarter decisions with access to real-time insights and intelligence on nearly any device, anywhere. Solutions enables businesses to design their business processes faster so they can innovate and get quick time to value. Dynamics 365 for Finance and Operations also gives businesses the flexibility to grow at their pace through the choice and flexibility, allowing them to scale their operations globally to meet their business needs.
Make smart decisions quickly
Get real-time insights in a mobile, familiar and easy-to-use experience to be more productive, faster.
Transform business faster
Help improve your business planning and execution with predictable implementation.
Grow at your pace
Get the flexibility of the cloud to scale globally and grow at your own pace.
Finance
Drive business performance
A modern finance leader needs to drive business performance with a holistic view of their business. They need the right data to make informed decisions. Dynamics 365 for Finance and Operations combined with Microsoft analytics tools helps finance professionals get business insights to anticipate business needs moving them from controllership to stewardship.
Monitor the pulse of your business
Drive corporate performance with business insights and intelligence.
Assess and manage risk
Gain increased visibility to organizational risks with a single view into your business.
Drive corporate strategy and growth
Grow your business with the flexibility and choice of the Microsoft cloud.
---
Commerce
Deliver amazing customer experiences
Today's customers interact with brands across a wide range of touchpoints throughout their shopping experiences. Customers use social media to read reviews, smartphones to conduct research and, now more than ever, they expect information . Furthermore, today's customers demand immediate, personalized service.
We've created the latest version of Microsoft Dynamics 365 for Finance and Operations to help retailers better manage these changing demands.
Accelerate global expansion with flexible deployments
Offering businesses the ability to leverage the power and flexibility of the Microsoft cloud to scale their operations globally.
Deliver seamless commerce and omni-channel excellence
Hosted & scalable E-Commerce Services usable with 3rd party online stores.
Achieve effective merchandise management
Getting ahead of trends and then effectively planning and delivering upon them is what sets apart market leaders from the rest of the pack.
Drive Intelligent Operations
From large organizations to small, the effective movement of a product from procurement through sale to re-order is of primary importance.
Operations
Work smarter with connected operations
Manufacturers must work smarter than ever to keep pace with rapidly evolving business models enabled by the fourth industrial revolution. Keep pace with the new speed of business with modern connected operations solutions from Microsoft that accelerate new product introductions and enable agile, intelligent manufacturing and supply chain execution.
Accelerate product introductions
Reduce risks and test new product ideas, confident in your company's ability to fulfill demand using intelligent and digital manufacturing.
Drive agile shop floor execution
Manage your production floor, enhance productivity and global visibility with operational workspaces.
Introduce Intelligent order fulfillment
Empower your employees to explore remediation options for your customers by increasing global visibility of your inventory, manufacturing and logistics.
---
| | |
| --- | --- |
| | Are you interested in this product? We will be happy to answer your questions, feel free to contact us using the form below. |