The new generation of enterprise information system
ERP system Microsoft Dynamics 365 Business Central is part of the Dynamics 365 family of applications and helps businesses support and streamline finance, sales, logistics, warehousing, manufacturing, service, and human resources processes. It provides managers with up-to-date financial data that links to business and marketing activities. It allows them to identify new opportunities, improve customer interaction and make quick decisions.
Are the existing accounting software or current ERP system not suitable for you? We have created a ready-made solution Navertica 365 BC Packages for you. Get information HERE.

Get a complete overview of your business
Manage your financials
Get a comprehensive view of your business and keep track of trends on built-in dashboards.
Increase sales productivity
View the best opportunities, speed up the sales process from bidding to generating real revenue, all linked to Microsoft Outlook.
Logistics Optimization
Based on sales and inventory forecasts, automatic order and production scheduling. Efficient warehouse management through tray setup and production capacity optimization.
Keep projects on time and under budget
You can keep track of budget execution, production capacity optimization, and correct meeting schedule by using of advanced resource planning features.
Warehouse optimization
With available artificial intelligence, you can better anticipate inventory levels and order what needs to be replenished.
GDPR compliance
It handles and stores personal data based on GDPR rules.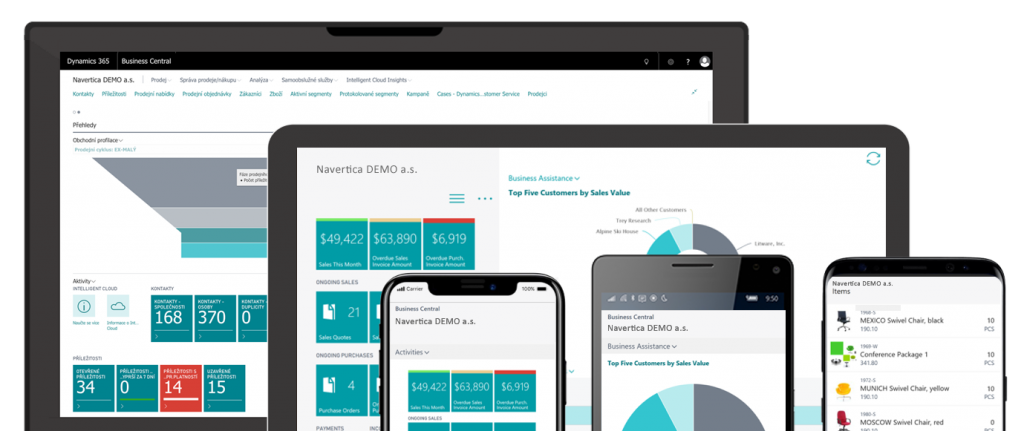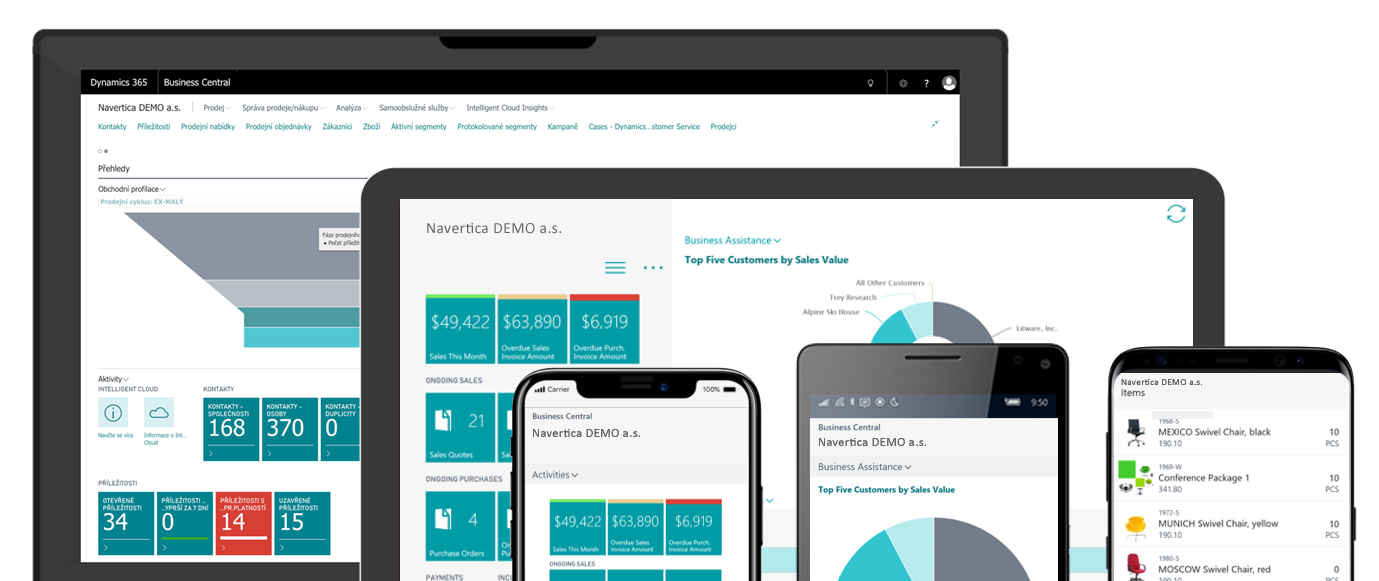 ---
From the features menu, you can only implement the processes you use
The basic functionality of the ERP system Microsoft Dynamics 365 Business Central

---
Make informed decisions
Dashboard connects data across accounting, sales, purchasing, stock, and customer interactions, bringing fast and comprehensive business data. You get an immediate overview of the status of business processes and their development. You can refine forecasts, adjust financial forecasts modeling and analyzing data in different dimensions.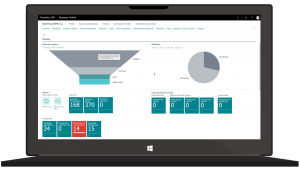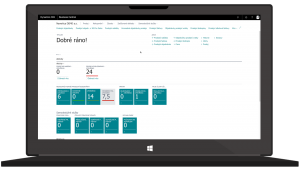 Automated data processing
Orders and production plans are automatically created based on sales forecasts and anticipated inventory. Tray settings that display transactions and item movement contribute to efficient warehouse management. Achieve optimum output levels by calculating production capacities and resources.
Sales and Services
Business Central enables you to view key business opportunities and customer interactions, accelerate the sales process from bidding to generating real revenue, all using Outlook.
Keep track of your salesman's workload, better assign tasks, and accelerate your response to demand.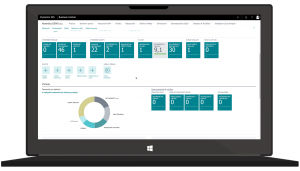 Supply Chain Management
Manage your production, warehouses, orders, and sales. Business Central, with its built-in artificial intelligence, allows you to predict inventory levels and order better what needs to be replenished to optimize warehouse levels. Automatic calculation of inventory levels and delivery times will help you avoid loss of sales opportunities as well as design alternatives in case of unavailability of goods.
Project Management
Manage and track customer projects with advanced resource planning features, optimization of production capacities, and resource capacities. Control and develop your budget to ensure project profitability while keeping track of real costs versus planned. Make decisions based on reporting on project status, profitability, and resource use.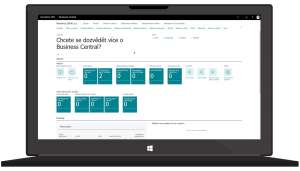 ---
You can get applications differently at different stages of your business.
You can choose between operating costs for services or invest in SW purchase. Applications from the Dynamics 365 family or their extensions can be run online (in the cloud) or on-premise, and often in a hybrid mode that combines available options.
---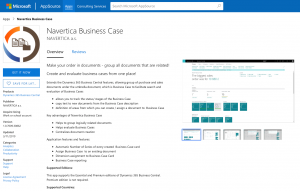 Microsoft makes available apps and extensions on AppSource
Shorten search, testing and application deployment to the minimum required. Extensions and applications for specific tasks are available on AppSource.
---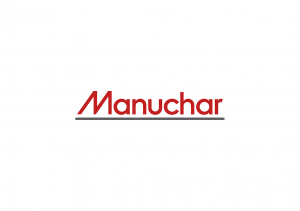 NAVERTICA is implementing D365 Business Central in Manuchar SA
In December 2018, we launched the implementation of Dynamics 365 Business Central at Manuchar South Africa (Pty) Ltd. Manuchar is global trading, logistics, and distribution company. Company headquarters is located in Belgium and more than 40 offices worldwide. Implementing Dynamics 365 Business Central in a South African (Durban, Johannesburg) cloud version is part of a plan to partially unify the ERP system for some Manuchar affiliates. One of the reasons for starting cooperation between Manuchar and NAVERTICA a.s. was the extension of Navertica Business Case for Business Central – available on the Microsoft AppSource portal.
---
| | |
| --- | --- |
| | Are you interested in this product? We will be happy to answer your questions, feel free to contact us using the form below. |