Microsoft Dynamics CRM is a customer relationship management (CRM) solution that enables companies to market smarter, sell effectively and productively, and care everywhere. It provides social insights, business intelligence, and productivity with One Microsoft solutions. And we deliver Microsoft Dynamics CRM in the cloud, on-premises, or with a hybrid combination.
With a CRM system, everything from customer accounts to sales opportunities to customer leads and account activity in the cloud, plus relationships involving mobile sales, come into easy view for collaboration and rapid decision-making. Store and leverage data and analytics for the big picture on your business from many angles. Or drill down into the CRM system's features and tools specifically for sales, service, marketing, and social intelligence.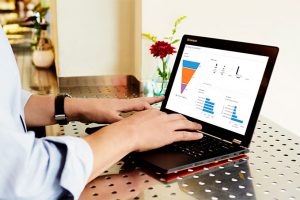 ---
What can CRM do for my organization?
CRM can help reduce costs and increase profitability by organizing and automating business processes that nurture customer relationships and satisfaction across all interactions — marketing, sales, and customer service.
CRM solutions can deliver return on investment (ROI) through marketing automation, customer service, and sales force automation.
We also offer mobile CRM apps and platforms that enable you to manage your customer relationships on your mobile devices, along with tools that integrate data and reporting from social media directly into your CRM application.
---
Sales CRM
Sales by Microsoft Dynamics provides a complete and intuitive solution that can help salespeople be more productive so they can focus on what's most important—delivering amazing customer experiences.
Your customers know more than ever before—making buying decisions before you can even engage. Your sales team must adapt to the new customer journey—building deeper relationships with customers and personalizing every interaction.
With the Microsoft Dynamics sales CRM, your salespeople can sell more effectively in this new era. By providing the essential insight, guidance, and tools that salespeople need, you can focus on the right customers and priorities, win faster by collaborating with colleagues to harness the power of the entire organization, and build a trusted relationship with customers through personalized and relevant engagements.
Sales capabilities:
Accounts and opportunities
Customer insights
Planning and management
Collaborative selling
Mobile sales
Sales analytics
---
CRM service
Service enables organizations to deepen customer loyalty by providing personalized, proactive, and predictive experiences across all channels. Agents are empowered with a single unified experience, enabling them to connect with customers effortlessly.
Delivering exceptional customer experiences means that every interaction matters. Our CRM Service by Microsoft Dynamics, empowers agents with everything they need, at their fingertips, to deliver superior service—from one consolidated view—giving agents the opportunity to focus on their customers rather than on navigating multiple screens and systems.
Customer service CRM can help you earn customers for life. Through cross-channel service, increased agent productivity, and adaptive service models, it can also help to decrease cost per case and increase agent satisfaction.
Service capabilities:
Cross-channel service
Agent enablement
Self-service
Knowledge
Social care
Service intelligence
---
Marketing resource management
The world is changing, and this impacts how companies need to engage. Customers now are 57 percent through the buying cycle before they even involve you. When the customer does reach out, marketers—now more than ever—must be there every step.
Microsoft Dynamics Marketing is a CRM marketing solution that enables your team to plan, execute, and measure campaigns across channels, from start to finish, to bring your marketing vision to life. You can engage customers one to one across channels, build your sales pipeline, and demonstrate the impact of your marketing investments—in real time.
Marketing capabilities:
Marketing resource management
Multichannel campaigns
Lead management and scoring
Sales and marketing collaboration
Social marketing
Marketing analytics
---
Microsoft social CRM
In a socially connected world, engagement with customers can happen anywhere, anytime, and it is key to growing your business. Microsoft Social Engagement, powerful social CRM software, puts cutting-edge tools in the hands of your sales, marketing, and service teams—helping them to gain insight into how people feel about your business and to proactively connect on social media with customers, fans, and critics.
The world is changing at an unprecedented pace, and social media is much more than a fad. Today's customers make decisions based on user reviews and online discussions. Conversations that were once had in person now take place on Facebook or Twitter. People are more informed, and they're getting their information in new ways, from new sources. With Microsoft Social Engagement, you can listen, analyze, and drive engagement all within Microsoft Dynamics CRM, Microsoft Dynamics Marketing, or standalone. Jump in and engage with your customers, reaching them in ways never before possible.
Social capabilities:
Social listening
Social analytics
Social engagement
Social CRM
---
Microsoft Dynamics 365 CRM + ERP
A new product on the business solutions market is Microsoft Dynamics 365, which brings a new generation of solutions to the cloud. This key innovation connects the best from ERP and CRM into one online solution.
Users will have the ability to manage economics, finance, operations, sales and marketing processes from one place. With intelligent business applications across CRM and ERP, Microsoft Dynamics 365 gives you choice. Start with just what you need to run your business—and delight your customers. And then add apps as your needs change. Apps work together seamlessly in the cloud.

---
| | |
| --- | --- |
| | Microsoft Dynamics 365 |
| | Are you interested in this product? We will be happy to answer your questions, feel free to contact us using the form below. |